By: A.J. O'Connell
Your Employees Want Training But Have No Time For It. Micro-Learning Is the Answer.
Tell your employees that they have to find the time in their workday to take a course on your organization's learning management system (LMS), and you're likely to hear groans.
It's not that they don't want to be taught — most workers do. A recent study from Deloitte suggests that younger employees don't feel they got the skills they need from college — and they expect their employers to provide it.
It's simply that most employees don't have time for traditional workplace learning.
According to recent research, employees have just 1 percent of their work week for learning — for someone who works a typical 35-hour work week, that's about half an hour of training a week. If your training is any longer than that, then you're asking them to either ignore their work responsibilities or complete their learning during their own time.
Neither of those is reasonable demands to make on your employees.
Enter micro-learning.
What is micro-learning?
Micro-learning is exactly what it sounds like — small amounts of intensely focused learning.
Rather than log into a company's learning management system (LMS) for a full-sized course, learners are served smaller chunks of learning — either on mobile devices or on their desktop. They take very little time — often less than 10 minutes — and are designed so that the learner can accomplish some important task after the lesson is over. They can be delivered in several ways, from an LMS to a video, to a chatbot.
This approach is useful because it complements the way humans actually learn. Think of a traditional training session. There's usually a lecture and some questions to prove that learners have ingested the information. While most learners do remember the lecture long enough to pass a quiz shortly after, the human brain isn't designed to take in a half-hour lecture and remember it forever. Micro-learning boosts retention by teaching one relevant piece of information at a time.
Before you start carving up your existing lessons into chunks of five minutes or less, it's important to note that micro-learning is more than a traditional course or a pre-existing module, cut into small pieces — the purpose of micro-learning is to teach the learner how to perform a specific task or achieve a specific objective. These chunks of learning must be intentionally designed so that they offer exactly the right amount of information necessary to help the learner perform that task successfully while tying into the overall arc of a company's learning and development strategy.
Micro-learning in the workplace
Because these tiny lessons can be delivered to learners on their phones, it's a particularly effective way to train employees who aren't chained to a desk.
This sort of learning has been used well with retail employees; rather than pull workers off the floor for training modules, retailers use mobile apps to train workers quickly. For example, home decor retailer At Home has used gamified micro-learning served in 3-5 minute chunks to successfully improve knowledge of safety topics, while sports retailer Gresvik AS, has used mobile micro-learning to teach workers about upcoming sales campaigns.
Those results are causing micro-learning to gain traction; according to ATD, 92 percent of organizations using micro-learning plan to increase their use of it while more than 67 percent of organizations not using it plan to start.
Because the learning is served up with one objective and is tied to a task that's likely to be completed during or soon after the training takes place, it's an excellent way to get new skills and new information, like new regulations, recently-updated policies, and compliance information — into learners' hands quickly.
Take the example of Lyse AS, a Norway-based power company, which recently adopted Workplace by Facebook.
Because of the nature of its industry, Lyse's employees must be upon compliance, policies and other information, but its customer service branch, Lyse Dialog, handles more than a million customer interactions annually — the team is too busy to stop for periodic training, and information sent through other channels, like email and Workplace by Facebook, is at risk of being lost in a deluge of other messages.
Lyse addressed the problem by using Prepp's chatbot Anna to cut through the noise of other posts and help get workers up to speed. It worked — more employees read the message from Anna than read the regular Workplace post.
Chatbots like Anna tend to deliver results because unlike regular Workplace posts, Anna engages the learners by asking for an answer. And, if a learner doesn't respond to the chatbot, there's a record of that, and the supervisor can use the chatbot to follow up.
Chatbots meet people where they are
As we mentioned earlier, there are a lot of ways to provide micro-learning to employees. You can send a video, use your LMS to deliver tiny courses, or ask a retail employee to download an app.
But there's a problem with all of those items — they add at least one extra step for your busy employees. If your employees only have about 30 minutes for training a week, you don't want them blowing their daily training time on downloading apps or managing multiple sign-ins. The hassle of having to move from one platform to another will cost your employees time and attention — it takes workers about 23 minutes to get back to work after an interruption takes them off-task, according to research on interruption.
That's an unrelated interruption, however. An interruption related to whatever a worker is already doing, however — like a quick burst of relevant micro-learning — is good for productivity because the learner's mind is still on their work.
That's why a chatbot is so valuable. It can meet your employees where they already spend time, like on Workplace by Facebook, where they're already logged in, or by texting them. Without having to log into a completely different system, your learners are being presented with micro-learning they can complete quickly, that relates to their work, and which will improve their performance as soon as they complete it.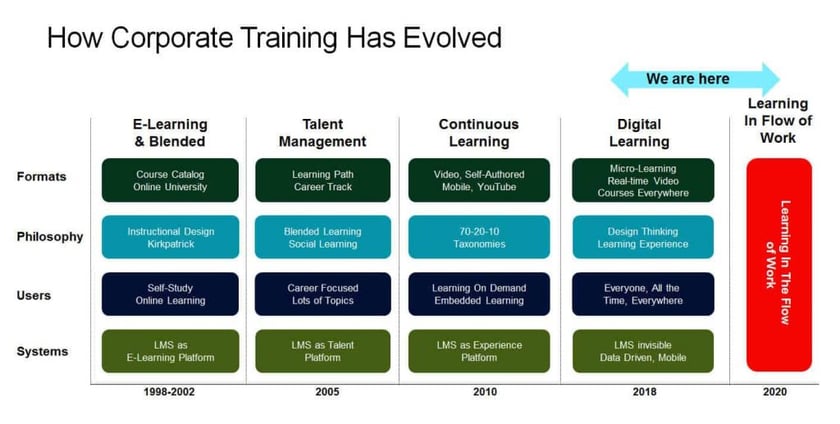 No one's being asked to complete training on their own time. No work piles up while employees run off to a conference room for training. And management knows who is actually completing modules.