The writing is on the wall – companies that fail to recognize the importance of fostering a positive employee experience will lose the opportunity to gain a competitive advantage. Amazon's dramatic shift toward employee-focused initiatives is a strong signal that we have entered a new era – one in which employers can no longer ignore the employee experience. Here's a 5-minute rundown on changes at Amazon and what they mean for your company.
Click here to read 8 key elements of Amazon's employee onboarding process
Why should we pay attention to Amazon?
Amazon has been a target for criticism from employee treatment to the environment and everything in between. Still, it is one of the world's most profitable companies and continues to grow through constant innovation and invention. Even if it's not a company you want to emulate, its actions are noteworthy indicators of shifts in the economy and workplace. Its recent moves to focus on employees are especially significant.
Amazon is notoriously frugal and is founded on a vision that hasn't changed since it was launched in 1995: To be Earth's most customer-centric company. Pressure to maintain competitive prices and quick delivery has led to a high-pressure culture sometimes characterized as unfriendly or unsafe for employees.
So, when Amazon makes bold moves to put employees on equal priority footing as customers – against the backdrop of the 'great resignation' — it's time to pay attention.
Amazon commits to improving the employee experience

In his 2021 letter to shareholders, Jeff Bezos added another vision: To be the 'best employer on earth.' He wrote, "… it's clear to me that we need a better vision for how we create value for employees – a vision for their success."
People have grown cynical of corporate promises and initiatives, so it might not be newsworthy if this were simply a commitment buried in the middle of one letter to shareholders. But, this is more than a catch-phrase to be soon forgotten. For the first time in its history, Amazon is gaining a 2nd vision statement – to be the best employer on earth. That's not something to be taken lightly.
Amazon rolls out meaningful and immediate improvements
A quick way to lose employees' trust and negatively impact workplace morale is to make announcements but neglect to follow up with meaningful action. Amazon lost no time in taking action. After officially adding "Strive to be Earth's best employer" to its leadership principles, Amazon announced in June 2021 two significant changes that addressed worker concerns.
1) An immediate removal of marijuana from its drug screening program.
2) A change in its "time off task" policy relaxed how employee productivity was tracked. Further, Amazon invited employees previously terminated due to the time off task policy to reapply by making them eligible for rehire.
A few months later CEO Andy Jassy announced more flexible scheduling options for employees.




What's behind the changes to improve the employee experience?
As with any significant change, there are undoubtedly multiple factors involved. A deep dive into Amazon news over the last few years shows a growing number of employee complaints as well as indicators of a 'great resignation' even before the pandemic.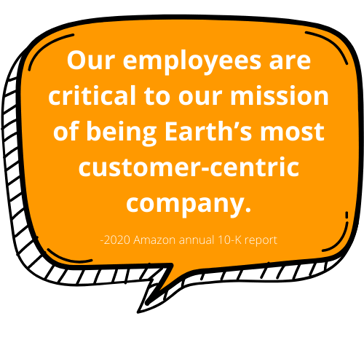 Amazon began taking more drastic action starting in 2020 when Covid related issues thrust it into the public eye, and customers began to take notice. There was such public scrutiny over employee treatment that shareholders voiced concerns over the risk to the company's reputation. Indeed, survey results indicated that American consumers, in general, were more likely to purchase from companies that treat workers with flexibility and empathy. Being a 'customer-centric company –Amazon surely recognized the impact of employee satisfaction on customers.
What does this mean for your company?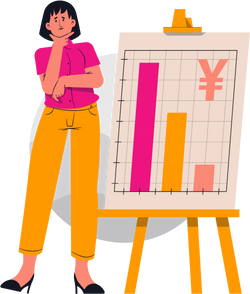 These changes signal that the labor shortages and employee turnover dubbed 'the great resignation' aren't a passing trend. It's a wake-up call to companies that have not yet taken steps to improve the employee experience.
Consider that Amazon's survival depends on strategic planning and determining its most significant risks and opportunities. With its vast resources, Amazon leadership has decided it's necessary to invest in the employee experience to gain a competitive advantage or prevent a competitive threat (or both). This is a forecast for the state of the global workplace.