Amin Fard, CEO and Co-founder of Preppio
Get the step-by-step guide to choosing the best employee onboarding software for your company.
At what stage of the employee experience do organizations have the first opportunity to drive employee engagement? The answer may surprise you — it's before your new hire has even started their first day on the job. In fact, companies that understand this have a key advantage to retaining top talent through strong engagement. We're here to fill you in on how employee onboarding software can help strengthen 6 attributes that drive employee engagement.
Attribute #1: ONBOARDING STAKEHOLDERS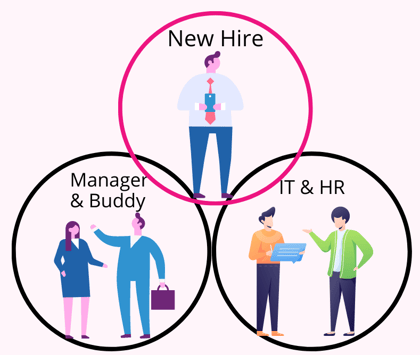 A diverse group of carefully selected stakeholders are key to successful employee onboarding and engagement. Clarity about your stakeholders will help you choose the right onboarding software and assist you in designing the right onboarding journey for your people. The phrase 'stakeholder engagement' is commonly used in business but less frequently in identifying key team players and their responsibilities in the onboarding process. It is an essential and strategic piece of the planning process.
Manager and buddy.

Effective onboarding software uses automation to nudge and coach managers into becoming onboarding superheroes. Show them that the work pays off in better results, happier people, and less time spent on problems down the path. As managers are time-poor, buddies free up time on tasks like asking new hires to complete forms and tasks.

HR and IT.

Your onboarding software needs to help your HR team to: 1) Make better strategic decisions about managing people; 2) Support managers and new hires; and 3) Help the stakeholders prepare for new hires. Have uniforms, access points, software, and welcome packages ready upon their arrival.

New hire.

Your employee demographic should play into your software decision. We recommend thinking like a marketer and building personas before designing the journey. Think about what would make your new hires go WOW!

The company.

How will your new onboarding software drive high ROI? Ultimately, the people within an organization are individual stakeholders who collectively contribute to your company culture. And your culture shapes the organization's competitive edge.
Attribute #2: THE JOURNEY STARTS AT PRE-BOARDING
The best employee onboarding software facilitates communication between the new hire and the company onboarding stakeholders during the pre-boarding phase. A modern onboarding solution uses this time to complete tasks and to gain an understanding of your new hire's personal strengths. Not only this, it's a time to introduce them to the team and set the expectations for the first days, weeks, and months ahead. It is also a time to nudge managers to be ready and connect before the first days.
Change Management and Adoption
Even with the best-tailored content and an effortless solution, HR may still struggle to persuade all managers to engage in the new way of employee onboarding. Choosing an onboarding partner that knows how to drive adoption and promote engagement around the launch of a new onboarding system is key if you are to successfully get managers involved.

Early Employee Support
It can be daunting to join a new company. Finding help quickly and finding the right people to talk to is key to reducing anxiety levels and supporting new people to hit the ground running in their new roles.
Attribute #3 DELIVERY OF COMMUNICATION




Micro-messaging
Managers are busy so it's important that your onboarding software makes it easy to do the work. Employees should spend as little time as possible on long-format information. Instead, companies should apply the principle of micro-messaging over time to encourage people to act on the steps in the onboarding process.
Personalization
Different people, departments, employee groups, and cohorts need different onboarding messaging and processes. The ability to set up different onboarding flows for employees is needed to ensure they get the right onboarding experience.

Get this step-by-step guide to choosing the best employee onboarding software for your company.
Download a chapter from the book, "The Employee Playbook" for actionable steps to choosing the best onboarding software for your company.


Attribute #4: TAILORING THE EXPERIENCE
You might be tempted to send a PDF or PowerPoint with bullet points, but consider what drives engagement – visuals that people are familiar with, such as pictures, videos, or GIFs. The platform you choose should enhance the experience of reading, seeing, and hearing your stories. Your CEO might not have time to meet with each new hire, but a video greeting them when they join is a great asset that reflects positively on the business' culture. Employee onboarding software helps to consumerize the experience with automated communications and activities tailored to your employee demographic.
Content is king
Choose an employee onboarding software solution that provides you with the customer service and support needed to build your onboarding process with content suited to your needs. Often when companies are left to build content without external help, the end result can be business-centric and poorly designed.
As technology alone will only get you so far, don't get bogged down with the features. The technology needs to be paired with content to build a strategy of engagement that suits your company and is based on data that has been proven to work. For example, what time of day and how many days before a new hire starts should you send a message to a manager asking them to call their new hire? Or, at what time should the new employee receive more information about the mission of the company – on the first day or ten days before joining?
Be sure to create employee-centric onboarding content. This is content that is not about the mission of the company, but the importance of the new hire's role in relation to the mission itself. When disengaged employees are trying to find meaning in the mundane aspects of their jobs, keen customer observations are often all that's needed to add a sense of purpose.
Attribute #5: FUNCTIONALITY



Oboarding software needs to be easy to set up, stress-free to make changes, and easy for everyone to use. Here are three things to look for in a good onboarding software solution:
1. No apps or logins.
There are already too many apps and logins for employees to think about. Managers are notoriously hard to persuade to adopt new software. Successful launch of your new evidence-based onboarding requires a solution that can work with the tools that employees are already using and that are compatible with your HR systems. Your onboarding system should not be an extra layer. Application Programme Interface (API) software works as a connector between HR, recruiting, LMS, and the solutions you use for communicating to employees.
2. Goodbye emails, hello integration.
Apps are hard to encourage people to adopt and email is often not opened. In fact, 50% of deskless workers and 30% of office workers do not open emails from management. McKinsey Global Institute found that the average worker spends 13 hours — an estimated 28 percent of their workweek managing their e-mail. Sending emails about onboarding to managers and expecting that the work gets done is ineffective. Modern onboarding solutions use the tools that your employees already have in a place like Workplace from Facebook, Microsoft Teams, Slack, or SMS, without the need for login software.
3. Analytics.
If it is not measured, it never gets improved. Measure the effects of your onboarding efforts and figure out where you can make improvements. Get the warning signals and save employees from leaving before it is too late.
Design an onboarding process to drive employee engagement
By building these six attributes into your employee onboarding strategy you will be well on the way to delivering ROI and achieving a range of business objectives propelled by a focus on employee experience. Here at Preppio, we've built an entire software product solely for the purpose of employee onboarding. It's our passion. Book a time with one of our onboarding experts — we'd love to help you on your organization's onboarding journey.