Learn employee onboarding from the best!
Learn how to build a world-class employee onboarding process
Join FREE 4-part email-based course
Get your onboarding certificate
Become an onboarding superhero
Signup and join the employee onboarding course immediately.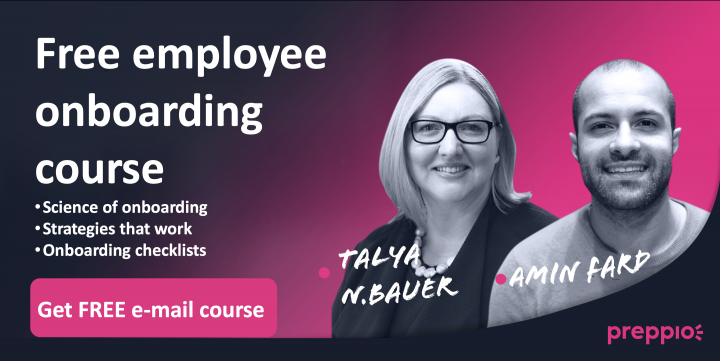 Why sign up?
It is short and to the point
You will not spend more than than 15 minutes for each part, and there are 4 parts that cover employee onboarding. Sent directly to your inbox.
The people behind the course:
Talya Bauer Ph.D
Talya Bauer (Ph.D., Purdue University) is an award-winning research and teacher who is a recognized leader in understanding the socialization and onboarding of new employees. She specializes in relationships at work and how they influence individual and organizational effectiveness and well-being during the employment life cycle.
She has acted as a consultant for dozens of government, Fortune 1,000, and start-up organizations and was a Visiting Scholar at Google. Her work has been covered in the New York Times, Harvard Business Review, USA Today, and Business Week as well as appearing on National Public Radio's All Things Considered, and KGW News.
Her research has resulted in over 150 refereed journal publications, book chapters, white papers, and books. Her work has been supported by grants from the National Science Foundation, National Institutes of Health, the SHRM Foundation, the SIOP Foundation, and the Oregon Transportation Research Consortium, and has been published in research outlets such as the Academy of Management Journal, Academy of Learning and Education Journal, Journal of Applied Psychology, Journal of Management, Personnel Psychology, and SIOP's I/O Psychology Perspectives on Science and Practice.
She teaches Human Resource Management, HR Analytics, Training & Development, Organizational Behavior, Negotiations, and Power & Influence at Work at the undergraduate and graduate level at Portland State University.
Amin Fard:
Amin is the founder and CEO of Preppio. He is passionate about making large companies create better relationships at work. He has experienced that the onboarding experience led him to become a terrible employee earlier in his career, but also as a manager for other people, giving terrible onboarding to his employees (Yes, even in the early days for Preppio).
"The potential in me was there, but I was not prepared and set up for success. I know the value of giving new starters a flying start, creating Preppio is a way for me to make a difference for all the employees that are not engaged in their work, managers that do not really know how to handle their latest hires and for all the HR people trying their best, but not getting the positive feedback from the rest of the organization."
Who is this course for?
This guide is for Human Resources professionals wanting to put the employee experience in the center of the employee onboarding process for their company and to improve the employee experience during the critical pre-and onboarding process. Some of you might work in companies that have no structured onboarding practice in place, others have created a process and want to learn more on how to suit the onboarding process to the world we live in today. It is for people at the entry HR assistant and the experienced CHRO.
We want to motivate and give you the confidence you need to actively pursue a great opportunity where you can impact hundreds, even thousands of lives the organization dramatically by improving the way the company onboards employees to the organization.
Onboarding is proven to reduce the time to productivity for new hires, reduce the unwanted turnover, and set the engagement, we believe that setting the right atmosphere during the onboarding phase you enable people to do their best work and help employees reach their people's deepest needs of belonging and love, esteem, and even self-actualization. This will, in turn, make your company attract and retain the best people.
We believe the people interested in reading this are people who care deeply about the "human" part of Human Resources and think strategically about the subject to drive impact. We want to help you break away from being viewed as the person and department they come to when there is a problem at work, but see HR as critical and strategic support to the organization's goals. Because people are a competitive advantage, more now than ever!
What you will learn:
What employee onboarding is from a scientific perspective, why your organization needs to think more strategically and scientifically on the process of onboarding employees in the right way, the onboarding software, tactics, and processes that are needed, and why and you actively pursue to modernize and improve the employee onboarding in your organization.
What will you need to do?
Read the information in the e-mail course and reply to the tasks in each section. For people that complete the course, we will send a certificate of being an employee onboarding rock star!